Trust exercises for couples
What is trust? Are trust exercises for couples necessary. I believe it is necessary because trust is pillar of any relationship let it be friendship, love or business. It is very important factor for success of any relationship. Trust can be lost in many different ways, it can be by means of lies, fight, torture, drug addiction, mental harassment or sexual infidelity. Out of all the options mentioned sexual infidelity is very sensitive in couples and once lost it is very hard to put it back again. So what if the person you loved the most breaks your trust and once it is lost what are the important trust exercises for couples that can be implemented to regain it back. I am sharing some tips on trust exercises for couples. I hope this post will help those whose criteria meets the situation of this post.
Read more on How to get your ex back
1. Narrate the circumstances
When it comes to sexual desire, it's tough to resist over it. Nothing is more powerful than urge to have sex, which is the major cause of infidelity in most relationships. If some or the other way you have betrayed your partner's trust, just tell them about your situation. Make them understand that you are guilty about it, try and convince them by saying you fall weak and could not handle the situation properly. Accept you were wrong and take responsibility of all your actions and make commitment not to repeat it again. Console and ask for chance and forgiveness. Narrate the situation in such a way that it works in your favour. Remember not to deny and lie, it will make your situation more vulnerable and lead to distrust. It's important to step up and accept what you have done.
2. Communication
To build trust again between couples, it is important to know your partner from inside and to know them, you first need to open the gates of your heart. Share feelings and open up with your situation. Make serious effort to resolve the problems. Be slow to anger, the more you get angry the more you will ruin your relationship further. The angrier you are, the lesser you will listen the other person's thoughts. Anger only kills, being angry will gain nothing. Instead talk politely and discuss the problems, it is the best remedy to connect again. Convince and let your partner know that you only want to be with them, no matter how weird the situations are.
3. Reveal your secrets
Sharing a secret which is hidden in your heart can be painful. Mind it it's never going to be easy, but in order to build trust back again you need to trust your partner and share the secret. It will not only help you release some tension, but also make you feel light hearted. This trust exercises for couples is great way to express feelings, which you would not be able to reveal in normal course. This secret sharing can give rise to a good or bad situation. Still it's a good thing as it will allow both to work on the problems and try to solve them in better way and get closer in your relationship. Tell everything they wish to know, do not hide anything. It is important to make them realize that you care and love, their existence matters to you more than anything in the world.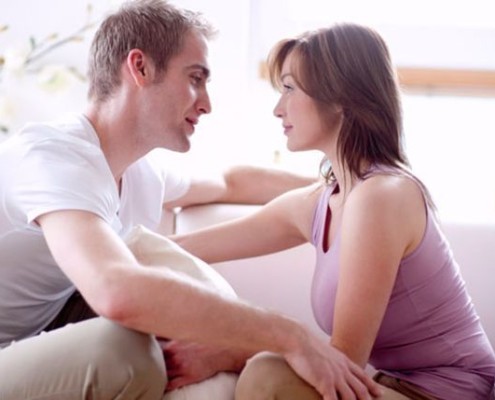 4. Play with eyes
Playing with eyes is very important for couples. Imagine you have crush on a girl with whom you wish to get involved in a relationship. How exciting it will turn out playing eye games with that girl, same is the case with couples who are already in a relationship. Playing with eyes allows you to look deep in your partner's heart. It is very good trust exercises for couples who are lacking trust in their love life. How to play with eyes? I will share a romantic idea to do it. Just sit on the bed facing each other and look in each other's eye for some time, now come closer without blinking the eye and allow your face to touch each other. You can go ahead and kiss if you want it is entirely up to you and your situation. By doing this trust exercise you will notice that the connection and the feeling towards one another will increase substantially. This small trust building exercises for couples can do world of good in relationships.
Relationship is a game of trust and belief, once trust is broken it's hard to get it back again. Well the most important point here is why to break it. If you would not break, there won't be any need to regain it again. What's important is to strengthen what you already have and make it more strong and lasting. Also, one point to consider is in most cases people purposely break trust and in some cases people are genuine, but circumstances are not in their control. Rebuilding trust in a relationship is not easy when one partner has done wrong. But if you will not try to build the lost trust again there will be no happiness or love in your relationship just like a barren land with no seeds. Trust building exercises for couples becomes more important in those relationship were trust, love and feelings are totally shattered with no hope left. It is important to remember the good times that you spend together and give one chance at least to start again and save your love life, there is no magic to build trust again. Trust grows with time, what matters is the willingness to accept the mistake and forgive, for trust to grow it requires environment of love and support. The only thing is one needs to always try and make things good, rather than breaking it.
This are some trust exercises for couples if done correctly than you can really have a better life and world.
I hope you all found the post on trust exercises for couples useful, if you liked it please share and comment.
Read More On Top 11 Reasons For Divorce To Avoid In Marriage