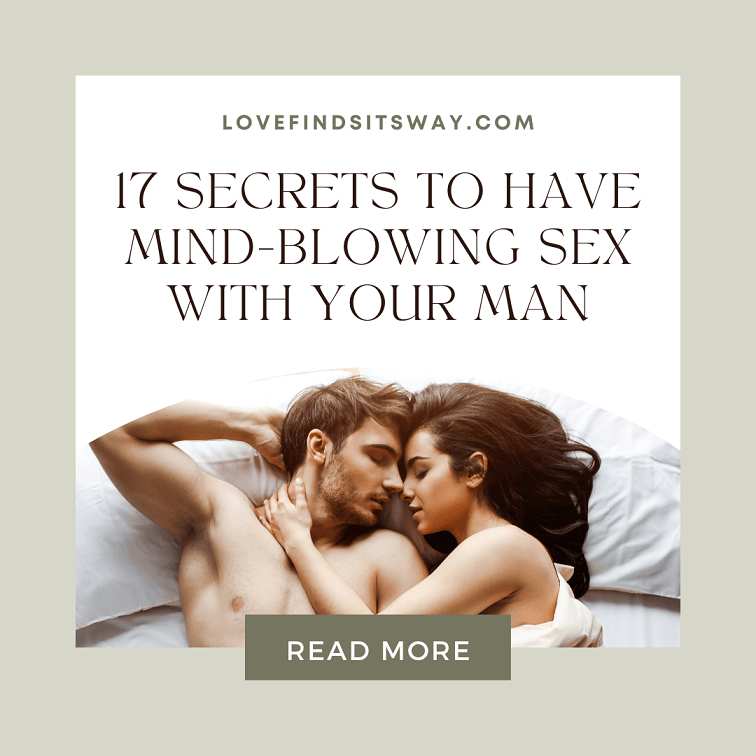 What most impresses a guy in bed? Do you know the secret to better sex? Surprisingly, many men admit being uninterested in "trapeze" or crazy stunts but wish their spouses show up more excitingly! What does that look like? Keep reading to discover the fantastic "spices" you need to bring to your bedroom if you want better sex with your man!
Show him how you want and like it.
Do you know "visuals" are the secret to better sex that most women underutilize? Show him how you like it, physically, with your hands. To ensure a nice experience for both of you, don't hesitate to position your body seductively, move your hands, and use verbal and nonverbal cues. This is a key way to make a man addicted to you.
Take things out of the bedroom.
Most women are unaware of the secret to better sex is that men enjoy a great deal of variety. Keep things interesting by trying various places to play, such as the car, laundry room, kitchen table, or outside. Having sex in unfamiliar places can also lead to more exciting and creative roleplaying opportunities.
Take the initiative more often!
Another key way to make him addicted to you is by initiating sex! Men enjoy being enticed; they enjoy feeling wanted. Initiating sex boosts his confidence significantly. How about you ask him how he wants you to begin? And if you're starting to initiate sex by caressing his back, let him know so he knows it's you trying to get it on!
Play an active role.
Many guys prefer to have sex with actively participating women. This calls for you to match his thrusts with your own, grind your hips, and engage your PC muscles, i.e., the muscles running from your pubic bone to your tailbone! You may also use your hands to squeeze your guy's arms, or you can use your lips to explore more of his body. These are incredibly effective moves on how to make him obsessed with you! They will let him know you're having fun as much as he is!
Show your prowess by trying various positions.
If you and your lover practice missionary on the bed a few nights a week, it's probable that you and your partner could do something different now and then. No one is advising that you go out of your comfort zone merely to satisfy your man, but hey, if the thought occurs to you that it could be fun to have him turn you around and bone you from the back on your kitchen counter, well then, go right ahead and make a man addicted to you.
Don't Miss!
Take charge!
One of the most effective bedroom secrets is showing him how you get yourself off when you're alone and letting him in on your fantasy. He'll be thrilled with the prospect of his own private peep show, and this is a great way to make a man addicted to you! He'll be learning just what you need to get off. It is essentially an investment in your future orgasms!
Dominate him.
Give him a first-hand demonstration of "Fifty Shades of Grey," by informing him that he can't talk, touch, or even move unless commanded. Tell him he will be punished if he disobeys you or fails to follow your instructions. Boss him around a little and tell him how you want him to touch you, what to say, and how you want him to move. Keep an eye on him and remind him repeatedly that you're in charge.
Discuss his sexual fantasies with him!
Guys are generally scared to discuss their desires since they fear they may be looked down on. So, if you open up the lines of communication, he will feel comfortable sharing his fantasies with you, and your relationship will only develop and benefit. The secret to better sex is to start a conversation about one of your fantasies to make it easier for him to share his fantasies and establishes a basic trust and a secure place. Before long, you'll be trying to convert them into reality.
Never shy away from the nasty talk.
A nasty talk is a fantastic tool in your "sexual arsenal." Erotica and pornography are excellent sources of examples of dirty talk. Do you want some basic but spicy one-liners? Binge on "Bridgeton"! However, you may not require inspiration from other sources. Also, the brain is the primary sexual organ; thus, looking at your sexual desires could be another source of inspiration that will make a man addicted to you.
Embrace kinky behaviors.
Does your lover like it when you're a little dictatorial in bed? Tell him what you will do too, and have him repeat what you say. You can whisper, 'I'm going to lick your breast now and then softly bite it.' It is also a terrific way to enter into a dirty discussion, which has its way of flaring up the fire of passion.
During the day, sext him often.
Sexting is one of the best bedroom secrets that are not leveraged enough and is a highly effective way to make him obsessed with you! Sex and excitement can begin before you even meet. Peak sexuality is achieved through increasing arousal before sexual engagement. You can express a fantasy or elaborate on what you want to do to them afterward. If you're both new to trading sexts, start PG-13 and let things naturally grow at a natural rate. Remember to keep it lighthearted.
Experiment with new sex gadgets.
If you've never used a bedroom sex toy before, you should know they can heighten arousal and provide an opportunity to experience amazing sensations. Once thought to be the domain of perverts, toys have improved their image, features, and materials used to make them.
Don't make orgasm your primary goal.
Intense "Os" are nice, but they aren't the be-all and end-all, and performance pressure is like a frigid splash of ice water on an otherwise enjoyable experience. Focusing on orgasm creates a negative feedback loop. You put pressure on yourself to orgasm, which causes you to be too worried about orgasm. Instead of viewing sex as a show with a grand finale, consider it a journey. It will increase your chances of having an orgasm. You can enjoy your entire range of pleasure when you are not under pressure to reach the peak.
Don't Miss it!
Leverage the power of your confidence
Many women struggle to feel confident in the bedroom- whether about their appearance or ability to please their partner. Even if you're nervous about how you look or how what you're doing makes him feel, it's essential to relax your inhibitions and attempt to be confident. If you struggle with your own perceptions of body image, you can start by:
Speak confident affirmations and cultivate good thoughts
Blindfold him so that all he can do is feel what you do
Wear clothes that make you feel sexy
Switch off the lights
When your partner does something you like or dislike, speak up.
Speaking out and letting your partner know what you appreciate is just as important as all those feel-good vocalizations. Similarly, a guy will only know you detest something if you tell him. Guys frequently wonder if they're doing it correctly and if you're enjoying their efforts. When you can't really heighten the sexual encounter, speak out when you like something and gradually take him elsewhere if it's not working.
Compliment your man beyond the bedroom!
Outside and within the bedroom, men might be self-conscious. A confident man will perform better sexually, and you can make him feel confident. Some tips to try include!
Tell him how delicious he looks while aroused and waiting for you in bed.
When he takes off his tie and loosens his top buttons, try telling him how sexy he is.
Play around with mutual masturbation.
Masturbation is a beneficial habit that lets you know your body, which is useful for communicating your sexual wants to your partner. While masturbating alone is fantastic, it may also be enjoyable to masturbate in front of or with your lover. Though many people may feel too shy to pleasure themselves in front of another, it will totally pay off in taking you to the next level.
Final Takeaway
So, there you have it! Our top tips on how to make your man obsessed with you in the bedroom. By following these bedroom secrets, you can enjoy more satisfying and exciting sex life. But don't forget that the key to keeping things hot is to keep things fresh – so feel free to experiment with new positions, toys, and techniques. And be sure to compliment your man whenever he does something you like – both in and out of the bedroom. It's how to make him obsessed with you. Thanks for reading, and we hope these tips help spice up your love life.