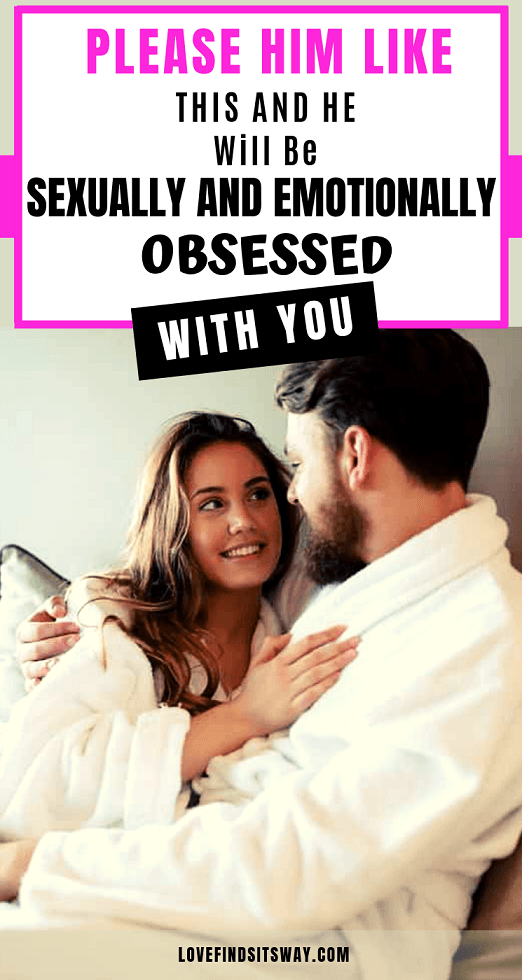 Learning the secrets behind how to please your man the right way in the bedroom is very significant if you want to make sure that your romance with him stays fresh and never fades away …
But at the same time most women find it tough to please their man and satisfy his sexual cravings.
But do not worry this guide is going to show you exactly how to do that with 9 insanely powerful techniques…
I know you have mix feelings in your mind, some of you are able to and some of you are unable to, but definitely you are not able to satisfy your man sexually to the point where you become a drug to his brain.
If this is your situation and even if it's not I'm going to let you in on the most powerful secrets on how to please your man in bed sexually.
Learning how to please your man in bed is the right antidote for your stale sex life.
This bit of information can literally make your man addicted to you.
You will become almost like a drug to his brain, and I will show you how to easily trigger his emotional buttons to get another "hit" of you
Before you read ahead I want you to go with a mindset which is this – Women want to have sex when they feel emotionally connected to their man.
Men feel more emotionally connected to woman by having sex.
The difference here is in the way of connection meaning men feels connected by sex, but for women emotional connection comes on top priority.
Being a woman if you want to make him want you and only you, you have create the right balance of emotional connection and sexual chemistry to please him.
1. How To Please Your Man in Bed By Learning About His Hidden Sexual Fantasies.
If you want to know how to satisfy your man in bed sexually, you must learn about his hidden sexual fantasies.
Having sex begins with knowing his sexual desires and without knowing his sexual desires there's no fun and no fun means no orgasm.
Knowing his sexual desires and fantasy will make sex as more fun by turning it into a giver-and-receiver game.
Note that knowing his secret fantasy is not only about kissing him on the neck, licking his entire body or giving him a nice blow job and get him hard.
In fact It's all in the mind and if you can trigger his sexual fantasy and desires you are able to build the anticipation of sex with you and only you in his mind.
How to build the sexual anticipation is an art that I will teach you right now.
Start talking dirty to him through sexy texts from the morning to build up the anticipation of great sex, this is what men love speaking his primal sex language.
When you talk explicitly, you strengthen his sexual prowess. This strengthens his physical as well as emotional connection with you.
Hardly some women know how to connect to their men in this direct way.
And even the women who DO know how effective this method is to please a man sexually they sometimes forget because life and all of its responsibilities becomes hurdle in their path.
But you must try this tips if you want to learn the secrets on how to please a man in bed sexually.
Believe me he will be completely floored by the intense way you can turn him on, like no other woman ever has.
I can't wait for you to see how naughty I can be tonight in the bed..
Honey! I want to be your personal slut tonight..
I need to feel you inside of me in the bed room tonight…
I don't want you stop until you are shaking, spent, and exhausted..
You have me so wet right now and I'm dying to make you cum.
I want you to go down on you until every part of your body is shaking with orgasm..
Note that these are just little trigger lines to build the sexual anticipation in his mind which will eventually act as the catalyst to please your man sexually in bed.
You can definitely use your own lines as per your convenience.
2. Learn How To Be Dramatically Naughty During Sex in Bed.
Most women are scared or feel shy to get naughty with their men in bed which is not at all good. In fact I believe a wickedly sexy woman truly understands how to divinely exploit the influence she has over her man.
If you cannot get naughty how will you fulfill his deep hidden sexual desires. Better change your mind set if you want to please your man sexually.
I Will Tell You How To Be Naughty In Bed
Being naughty to me is doing anything and everything that pleases your man.
Tell him to lie down on the bed, then use handcuffs, scarves, to lock his hands together so he can't touch you.
Next, "you want to torture him playfully with your teasing," says sex expert Candida Royalle, author of How to Tell a Naked Man What to Do.
 "Slowly kiss your way down his torso, and just as you get to his pelvis, move back up to his ears and neck."
As you tantalize him and he strains to touch you, ask him to tell you why he wants you so bad, explaining that you won't let him free until he convinces you.
Once he's pleaded his case, release his hands, roll onto your back, and allow him to take over.
After building up the erotic anticipation, it'll be like setting a windup toy loose on your body…and hearing him describe how hot you are will turbocharge your experience too.
Source – http://www.cosmopolitan.com/sex-love/a3481/bad-girl-sex-tricks-0308/
Don't Miss!
3. Give Him That "WOW it was awesome" Kind of Sexual Experience in Bed.
If you really want to please your man sexually in bed and give him "wow" like feeling you have to be different and unique from other women.
All you need to do is master few sexy but awesome sexual techniques to blow his mind.
There's a whole program called Language of Desire.
You can learn some serious mind blowing techniques and tricks to wake the animal in your man says the Author – Felicity Keith – You can Watch Her Amazing Video Here
You must discover your own signature mouth move.
For instances you can go down on him and try exploring the whole area around his waist, hip, pubes with your tongue and lips.
You can play with your lips just around for a while without touching it directly directly, again you can repeat the whole process using just the tip of your tongue to make him feel an entirely new sensation.
To be honest there's no end to your imagination, you can keep exploring and please him sexually and eventually getting your sexual needs fulfilled in the end after all that's the end goal the satisfaction of both the partners.
4. Learn to Give Him a Fantastic Blow Job.
One of the most common and biggest complaints that most man face is the lack of blow-jobs in their sex life.
Do you know that your man wants you to suck his dick willingly and not unwillingly. This is why you must surprise him once in every fortnight by giving a nice blow job, not because he asked you to, it's because you wanted to – this should be the natural feeling in your mind if you really want to please him sexually in bed.
Doing this will certainly trigger his emotional buttons and elevate your status from okay to WOW! in his mind and that's what you want isn't it.
But How To Give Him The Best Possible Blow Job To Make Him Beg For More.
Ask him what he loves – Every man is different and in the same manner every penis is different too, so asking him what he loves is the most vital thing you must do. Speed, position, and focus area are critical to know in order to do a custom-made job for him.
Wetter is Better – Flavored lubricant or lots of saliva is key. A dry mouth on a dry penis can hurt and cause displeasure. Make sure you're well-hydrated to be in top saliva-producing mode, start by giving shorter oral sessions with him (like as a precursor to vaginal sex) this will seriously turn him on.
Not Just The Tip – The tip of the penis is very sensitive, and too much sensation initially on the tip of the penis can turn of his whole excitement. Just think what you would prefer him to do when he is performing oral sex on you.
Most women like the slow and soft movement of the tongue on sides and the walls of the vagina clitoris to start with.
And then vary between direct pressure on the clitoris and licking on the inner and outer labia.
Gradually building up to more intense and focused pressure on the clitoris.
If he just went to town sucking or pressing hard on it right off the bat, you'd probably yelp in pain.
So think of how you love oral and use the same idea to suck his dick.
The length of the shaft, the base, balls, and perineum are all places to utilize and focus on while giving him oral pleasure.
Start slowly and gently. Vary where and how you are placing your mouth and tongue on him and build up rhythm and pressure as you go.
Use Your hands – While deep-throating feels Awesome to him, not every woman can do it. Some of you may have too strong of a gag reflex. Or his penis might just be too big.
Or you may have a cold or allergies making filling your mouth and throat up with his cucumber impossible because breathing through your nose is a no-go.
Whatever the case,using your hands can help you bring him more and varied sensations and also helps your stamina.
More importantly enjoy and stay enthusiastic while you perform this act. It's because if he happens to find you doing it unwillingly it will spoil the whole sexual experience.
Source – Languageofdesire.com  <== Watch Video Here
Don't Miss!
5. Use thee Mirror Technique To Intensify His Sexual pleasure in Bed.
Trust me when it comes to sex, it's important to add some new variety to spice up your sex life.
One of the best ways to intensify his sexual experience and please him in bed is by adding a long mirror in front of him while you are giving me the blow job.
It's because as I have said many times in lot of my post that men are visual by nature and they visualize what they see and even more what they don't see.
Men are highly visually stimulated when it comes to sex and you must take advantage of it if you want to please a man in bed sexually.
I am sharing with you a beautiful techniques to make him visualize and at the same time take his sexual pleasure to another level.
Believe me just it's going to be fun girls just continue reading.
Place a Mirror in his Line of sight whenever you have Sex with Him, Especially when you are giving Him Blow Job, it will certainly drive him wild, I will tell you how!
The best position would be him facing the mirror with you bending down on your knees.
If it's a vanity or dresser mirror, him sitting on the bed facing the mirror with you on the floor between his legs is the ideal position to make him see you.
This will enable him to look down and watch you giving him blow job, and he can also watch you and your sexy ass in the mirror.
If you want you can add more spice and kink to the situation, wearing cute panties, sexy lingerie, or staying naked whatever you feel like, but make sure you movements and gestures is driving him wild.
6. The Slow and Steady Sexual Tease.
Now while you are giving him awesome blow job, turn back and slowly whisper in his ears and tell him he is in for a feast.
Now get him into ideal position in front of the mirror. His penis is your final goal, but you are going to take a slow and steady path to get there.
Start by licking his neck. Run your mouth and fingers slowly down his chest.
Gently pinch or squeeze his nipples with your fingers or teeth.
If he's wearing pants, slowly make a move with your hand or your mouth over his covered penis. Massage lightly to make him feel the sexual heat.
Then move your attention toward his hips, groin, and upper thighs. Lightly caress and tickle him.
Run your tongue round and round around those areas. You can also touch, massage, and lick his inner thighs, too.
This is just like a nice foreplay to please him, so continue doing it for several minutes.
Graze your fingers and mouth over his penis but then quickly move away to these other areas. You are going to have him begging to put your mouth on him.
He may grab your head at this point and try and move it for you. Tell him to wait and not to hurry.
7. Play with His Eyes and Ears to Please His Senses.
Now it's time to play with his upper body, so slowly make a move towards his chest and then neck and then make intimate eye contact with him.
To add little kink and sexual appeal, smile and lick your lips.
Grab his penis tightly and ask him, 
"Do you want me to suck your hard dick now?" with a naught smile on your face. Or you can tell directly,
"I know you wanted it badly, now I'm going to suck your dick.
It's an awesome feeling and believe me he will love hearing this words from you while as you are staring in his eyes with seducing look on your face.
As you take his hard dick in your mouth, make eye contact with him.
Take it out and slide your mouth alongside his entire length like it's a cob of corn. Swirl your tongue over the tip and slide it back down the other side.
Break eye contact and then re-make eye contact as you are doing this.
Begin to slowly take him back into your mouth as far as you can. Make eye contact as you are lowering your mouth on him and let out an "mmmmm" sound.
Stop and ask him if he likes watching you in the mirror. Make sure he's aware that you've purposely placed the mirror for him to watch you sucking his hard dick.
Take him back into your mouth and continue to give him head. Make sure to moan and make "mmm" sounds as you go.
You can break and re-make eye contact as you continue to give him head. He may be intently watching you or your reflection in the mirror, or he may be closing his eyes in pleasure at times, too.
Your mouth or jaw may get tired, but even if it doesn't, switch it up to just a lubricated hand for a minute or two. Tell him how much you love sucking his dick. You can say
I love your cock…
I really love sucking your cock and I can please you all night long..
I love pleasing you this way..
Honey! Do you love the way I suck your hard dick..
As I said above if you want to learn how to please your man in bed sexually, you will have to add some spice and trigger words to enhance his overall sexual pleasure.
You can use these lines as it is or use lines of your own, the point is to try and make his sexual experience memorable every time you sleep with him.
It will push him to keep coming back to you and only you.
8. Ride His Dick Like a Porn Star To Intensify His Sexual Pleasure in Bed.
While you are riding his dick in woman on top sex position. Sit on top of his penis leaving your arms on the bed for support.
Play with his penis by rolling your vagina on the top surface, the sensual touch of your clitoris will turn him wild. As you start getting wet slide it fully inside him.
While you move up and down on him try contracting your vaginal muscles.
The contraction of your vagina will help you to have sweet orgasm and to him it will give tight feeling of having sex for the first time with a woman.
9. Make Him Feel How Tight It is.
If you want to please him sexually make him feel how tight your vagina is and how hard it is to get in even though in reality its not, try this hot sex move.
 Bring both your legs straight moving up together and resting them on his shoulders.
This sex position is absolutely thrilling and it will give him the best orgasm and imagination of entering a tight pussy in his mind.
Conclusion
To be honest there are so many ways to please your man sexually in bed and so many different tricks and techniques, but in this post I have tried my level best to create a story that you can actually visualize and even try tonight with your man.I have also provided you with two different ways of giving your man a nice blow job and it's just awesome all you need is to try it once and It's so easy, now this is just one part, but if you are really serious about pleasing your man and at the same time satisfy your sexual needs in return from him, then you must definitely go for the above program I discussed with you above.